Applications:
Chemical, Petrochemical, Oil & Gas, Power Generation, Refrigeration, Pharmaceuticals, HVAC.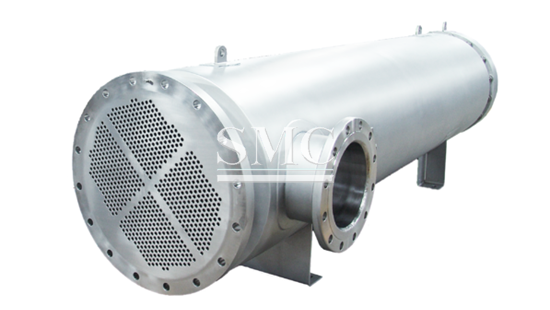 Features:
1. The shell and tube heat exchanger is composed of shell, heat transmitting pipe line, pipe board, baffle plate and channel. The shell is mostly cylinder-shaped with pipes inside, both sides of the pipe is secured on the pipe board.
2. The two cold and hot fluids for heat exchanging, one is flowing inside the pipe, called channel fluid; the other is flowing outside the pipe, called channel fluid. In order to increase the heat transmitting factor for the channel fluid, generally several baffle plates will be installed inside the shell.
3. The baffle board can increase the fluid flow rate of the channel fluid, forcing the fluid go through the pipes along with the stipulated channels to increase the turbulent extent of the fluid.
4. The heat exchanging pipes can be arranged as equilateral triangle or square on the pipe board. The equilateral triangle is more compact, the turbulent extent of the channel fluid is high, and the heat transmitting factor is big; the square arrangement is easy for cleaning, which is applicable for scaling fluid.